I'm having a rough time. Some of you know why. I sat down to write a post today and an hour later nothing has been accomplished. So here is a re-post instead.
…………
My friend says she's sometimes not sure activism is worth it anymore, because the world is about to end. I don't share that problem. My problem is I don't know how to choose among the many possible forms of activism, when I believe they might all be fruitless anyway. Six of one one, half a dozen of doing not much. Also, sometimes I get so anxious I can't do anything at all.
A few days ago, my friend posted to Facebook, attempting to start an "informal dialogue" about how to cope with climate change psychologically. How to deal with the often paralyzing and exhausting fear that awareness brings, especially when the surrounding society offers so often the tempting narcotic of pretending it's not happening, or is happening only in a distant and mild way. As if we had fifty or a hundred years to sort all this out. As if climate change weren't especially important. It's lonely, as she said.
I thought I can help! I have a blog about this very thing! But, when I looked, I saw no entries that really suggested a solution. And when I searched online, while I found confirmation that the discipline of psychology is, indeed, tackling the issue, I saw nothing of particular immediate benefit to me.
Enter the Man of La Mancha
Coincidentally, into my doom and gloom, came an email from another friend about something totally different. Among other topics, he referred to some of his own environmental work as "tilting at windmills." Of course, that's a reference to Don Quixote, the classic figure of fiction who deluded himself into believing he was a heroic knight and who attacked windmills, believing them to be fairy-tale giants. My friend is doing nothing in any way similar–the giants he is attacking are all very real–but he has a self-deprecating sense of humor.
But what occurred to me when I read his email was the following: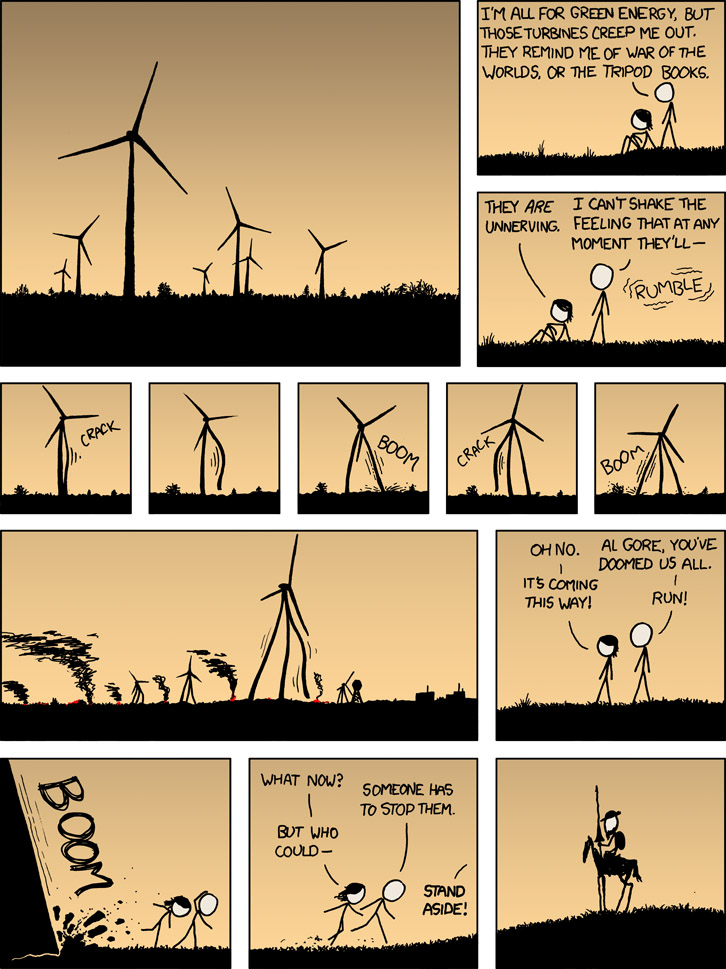 From: https://xkcd.com/556/
If you can't see the comic I've pasted for whatever reason, it starts out with a picturesque landscape of modern wind turbines silhouetted against a peach-colored background. In subsequent panels, two people (rendered as stick figures, this is XKCD, by Randall Monroe, and he mostly does stick figures) admit that the turbines look disturbingly like the tripodal monsters from certain sci-fi stories–and the turbines promptly grow legs and become exactly such monsters, ravaging the landscape. Their huge legs pound the ground with calamitous thunder. The terrified humans despair–but a voice calls "stand aside!" and there, on a hill, lance at the ready, stands DON QUIXOTE!
The "mouseover text" is "The moment their arms spun freely in our air, they were doomed–for Man has earned his right to hold this planet against all comers, by virtue of occasionally producing someone totally batshit insane."
When my friend mentioned "tilting and windmills" I also thought of Quixote's story from the character's own perspective. To others, he seems simply to be having a mental health problem–and that is part of the truth, as the book makes clear. But the deeper, more complicated part is that Quixote is attempting to live by the rules of a vanished, and perhaps always fictional world, a world characterized by honor, nobility, and bravery such as most people now ignore. He is not so much fighting against windmills as fighting for the proposition that there is something worth fighting for, that a man on a horse and with a sense of honor can make a difference in the world.
In the actual book, that fight is a losing proposition. Quixote's attempts to be a hero all backfire, he helps nobody, and ultimately he regains his sanity and disavows all interest in the romantic stories that used to fascinate him. It is Randall Monroe's contention, however, that crazy Don Quixote is still out there somehow, and that there will come a time in which we need him.
When we need precisely someone who is crazy enough to believe that he or she can make a difference, despite all evidence to the contrary.
Is the real question, then, how do we maintain ourselves as the right sort of "batshit insane"?
Some Provisional Answers
I'm hardly an expert on how to solve the world's problems. There are days I can barely manage to clean the cat box. I'd be much more comfortable if I could have Googled up some DIY tips on how to fight the good fight, recommended by a successful activist with a background in psychology besides. But that didn't happen. So, instead I'm presenting a couple of ideas of my own. After all, I'm going to be forty next week. I figure that after forty years (less one week) on this planet, I've learned a few things worth sharing.
1. You Can Only Do What You Can Do
A primary struggle for me is finding myself mysteriously unable to do things. I mean I intend to do it, I plan to do it, I mean to do it, and I don't. "It" could be anything from losing weight to cleaning the toilet, but the most relevant example is the expansion of this site that I began soon after the election and have not yet completed. Why not?
I've tried on a lot of explanations, mostly revolving around quirks of my brain that really do make a lot of things harder for me, but none of those explanations suggested a solution. I suspect I've simply been engaging in my own version of what my mother does–calling herself lazy when she finds she can't work more than anyone humanly could (she's retired now, but still busy with four grandkids and a big house and yard, plus volunteer commitments). Both of us are under the persistent delusion that we have super-powers, and we set goals and priorities for ourselves accordingly.
I mean, here I am, working as a free-lance writer to pay the bills, plus maintaining three unpaid blogs and writing multiple novels all at once, and I'm down on myself for not also building this site into a major online resource for activists?
Maybe if I sat down and made an honest assessment of what I can do, and then re-prioritized, I'd be more successful at meeting my goals.
I'm not just talking about time management, here. I'm talking about energy. I'm talking about money. I'm talking about resilience in the face of stress. I'm talking about physical and mental health. I'm talking about ability, which, yes, does vary. All of this varies, from person to person and from day to day, often for reasons we do not and cannot know. To some extent we may be able to change our reality–I may be able to do things tomorrow that I can't do today–but we can't just wish it away.
If you only have ten minutes a day to devote to saving the world, then accept that and make your ten minutes count. Develop a plan you can actually enact.
2.Don't Ask Whether You Can Do It–Ask How
I realize this point and the previous one look like contradictions, but I'm actually addressing two different aspects of "can." There is choosing an achievable goal, and there is choosing a workable method.
For many years I confused the two. When I despaired of achieving something and people told me to believe in myself, I thought they meant I should make like the Little Engine That Could and motivate myself to the top. And that just made me feel worse, because while strong motivation can indeed unlock hither-to un-guessed-at possibility, I knew that real limitations exist also. Sometimes, even the Little Engine can't.
Maybe that's what they did mean–the idea that attitude is everything is a very common fallacy, and it results in people not only feeling terrible for not being good enough, but also torturing themselves with the thought that somehow they must not have wanted it badly enough.
But eventually somebody nudged me into realizing that there is a better way to think about goals; don't ask whether the goal is attainable, assume that it is–then ask what method is workable.
Maybe the Little Engine can take a different way up the mountain.
There is no logical reason whatever to waste time and energy wondering whether we can still prevent climate change disaster. We know that this goal is worth everything we can throw at it, and that if we are to succeed, we must throw everything at it. We will get up that hill or we will die trying, because the alternative is to die without trying and that is worse.
The real question is how are we going to try getting up that hill?
3. Just Pick Something
Ok, but how are we going to attack that hill? Let's be honest; there are days when each of us thinks we may be facing a no-win scenario, here. And when you believe that you'll fail no matter what you do, how do you pick a thing to try to do anyway?
I have lots of experience with this conundrum, because I have a really hard time making seemingly arbitrary choices. There are days I do no housework at all because I can't decide whether to clean the kitchen or the bathroom first. Based on my extensive experience, I can offer two suggestions:
Pick something. If it doesn't matter which you pick, then you can't pick wrong.
Once you pick, do something to make it seem less arbitrary, like investing money in your choice, or commiting to a friend you'll stick with it.
4. The World Usually Doesn't End
This one's pretty simple. Yes, it seems plausible that everything we hold dear is about to be destroyed, especially this week, as the leaders of two nuclear-armed nations engage in what might even charitably be termed a pissing contest. But the end of everything has seemed plausible before and the world didn't end. It usually doesn't.
5. Don't Dis Despair
Another friend of mine insists that despair is a useful state, not to be resisted. I don't really understand this. I trust him to be wise, however.
I do know that temporarily giving into despair can be useful if only in that it allows a rest from the work of resisting despair. Rage, cry, curl up in a fetal position, and then pick yourself back up and get on with things again. I also know that giving up on one thing can be the first step to trying something else–a different, more workable method, perhaps.
How to…?
So, how to keep it together in the face of climate change, or at least fall apart in a useful way? I'm not entirely sure. I haven't found anyone who can tell me. But at least part of the solution, in my experience, involves the following:
Honor your own situational and personal limits
Choose ambitious, pie-in-the-sky goals and practical means of reaching those goals
If no course of action looks better than any other, choose randomly
No matter how bad things look, remember the world usually doesn't end
And if you do get caught up in despair, give in to it occasionally–you might find something useful down there in that pit.
That's what I've got. Let's see how it works.